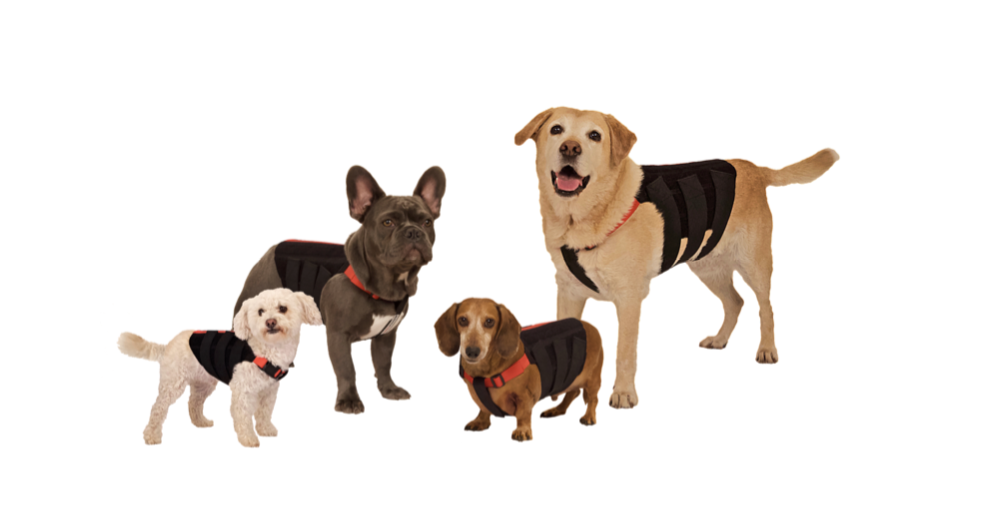 WiggleLess Dog Back Brace
WiggleLess Dog Back Brace
EVER CHANGING
When my two dachshunds, Henry and June, were both diagnosed with intervertebral disc disease (IVDD) in 2009, I knew I had to do something to help them. Veterinary care was essential— weeks of confined rest, anti inflammatories, steroids, pain relievers, muscle relaxers. Yes, they needed it all! But what was to prevent them from hurting their backs again? I knew they needed a brace, much like the one I use from my local pharmacy when my own back gives out. I shopped around online, called my veterinarian, and much to my surprise, a brace for dogs did not exist. Little did I know this would be the start of WiggleLess—and that in time we would be helping support dogs with back problems all over the world.
Our first version of the brace went online in 2011. With dachshunds primarily in mind, we offered three sizes to accommodate their various sizes and builds, and they sold like hot cakes. We were surprised to learn that, according to statistics, one in five dachshunds are diagnosed with IVDD.
I started receiving emails and calls from customers who had Schnauzers, Pugs, French Bulldogs, Cocker Spaniels, Shihtzus, Basset Hounds, Beagles, Bulldogs, Poodles, Pekingese, Corgi's, Terriers and more.
It became apparent that dogs of ALL shapes and sizes can have back problems. It made sense. Why would dogs be any different than humans? After-all, they rough and tumble, jump and play, twist and chase their tails. That can take a toll on ANY back, right?
I wanted to help more dogs, so it was back to the drawing board with my pattern engineer. We created EIGHT sizes, from the eight pound dogs to the sixty lb. dogs. We all know how many different builds and breeds there are within that range! We sold them for years and the dogs we helped and the testimonials we received rewarded our efforts.
However, in time, I received feedback from customers around the world who had even larger dogs with back problems—Golden Retrievers, German Shepherds, Labrador Retrievers—sporty, athletic, high energy, beef cakes.
I went back to the drawing board yet again. The broad range of dogs are challenging to fit. Humans have petite, small, medium, large, xlarge, xxlarge. Dogs have so many different builds. How to accommodate that? We fitted my dogs, my friends dogs, neighborhood dogs—we went to the humane society and fitted the wonderful dogs there. We sent out testers to rehabilitation centers, and dog support groups. We've been testing and fitting dogs for two years now—some with minor back injuries needing support, arthritis, obesity; some with IVDD related back issues; others with more complicated spinal injuries, and even dogs wearing carts with wheels.
After tireless hours, days, weeks, months, and years, spent tweaking, testing, and improving, WiggleLess is proud to offer our newest design! We now offer four sizes and because of the adjustability we have created within each size, we can fit even MORE dogs that are small, medium, large, xlarge, and even in between!
Why have we put so much time and effort into making a new dog back brace, you might wonder? Because we love dogs and we want to help as many as possible. It's really as simple as
that. WiggleLess is a company with HEART. We know how much our furry friends mean to us and how hard it is to witness them in pain. We want them to live a high quality life, no matter what the circumstances are.
Why is WiggleLess Dog Back Brace the choice of dog lovers all over the planet?
Superior Design— the most supportive and adjustable brace on the market.

Vet recommended

Adjustable belly straps help to fit most shapes of dogs

No leg straps(it can be risky to lift the leg of a dog that has an injured back)

Comfortable

Easy to Use

Tried and tested

Fits big dogs

MADE IN USA
LOVE AND
RESPECT

ANIMALS!